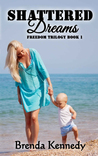 Shattered Dreams
by
Brenda Kennedy
My rating:
4 of 5 stars
SHATTERED DREAMS BY BRENDA KENNEDY
REVIEW (ARC)
3.5 STARS FROM PNR BOOK LOVER REVIEWS
A VERY CUTE LOVE STORY, THAT BEGINS WITH EMMA AND MAX, UNFORTUNALTY HE DIES AND WE FAST FORWARD A FEW YEARS AND WE GET THE STORY OF EMMA BEING A SINGLE MUM AND MOVING ON, A ROLLERCOASTER OF EMOTIONS. WE ARE ALSO GIFTED WITH MANY POV, WHICH AT TIMES IS REALLY NEAT. THE SECONDARY CHARCTERS ARE FABULOUS. BUT DO WE GET A HAPPILY EVER AFTER... YOU WILL BE LEFT HANGING AND THINKING WHAT NOW... THIS BOOK IS PART OF A TRILOGY!!
IF YOU ARE NOT INTO CLIFF HANGERS, YOU WILL NOT ENJOY THE ENDING. OTHER THEN THAT A GREAT SHORT READ, WITH ROMANCE, NEW BEGINNINGS AND A LOVELY CHARACTERS AND AN ENJOYABLE PLOT.
♥Romance Was Lovely✔
♥Characters Are Were Cute✔
♥Refreshing Story Plot ✔
View all my reviews