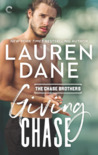 Giving Chase
by
Lauren Dane
My rating:
5 of 5 stars
** spoiler alert **
If you didn't know already Lauren Dane is one of my favourite authors ever, I cant fault anything that I have read from her and she continuously produces amazing stories. When I found out she was re releasing these I was over the moon, the covers are hot and the stories are even better, it doesn't matter what the cover looks like.
I freaking LOVED this Story, I have re read it so many times I have lost count. This revised edition isn't anything different just a little polished. The story is exactly the same and nothing changes, thank goodness!
I loved all the different emotions i went threw reading this, The Chase brothers are Wicked Sexy!
This One is about Maggie and Kyle!! And it is So Good...
Maggie has a few dates with this guy called Alex and he turns out to be a FREAK!
Then she has a couple of Dates With the Oldest Chase Brother Shane, The way they meet is so funny, but Kyle has had is eye on her for awhile and is waiting for Shane to stuff up.
And he does, and Kyle wants to wooe her... and let the awesome (ness) begin!
I'm so excited for new reader to read this series that means so much to me, I read them over 9 years ago and still today are my favourite Lauren Dane series.
This is great Love story and i just cant get enough, you wont be able to either.The whole cast is everything, this series is the original "small town, family series"
View all my reviews